Insight: The Partners Of Richard Mille
Founded in 1999, Richard Mille being just over two decades old, has somehow cemented itself among the top luxury watch manufacturers in the world. The brand produces some of the most durable timepieces out there and partners up with some of the most renowned personalities and companies to test out its pieces. It also has created timepieces for these personalities and companies. Today we will be looking at the partners of Richard Mille and the timepieces they partnered up to produce.
The Partners Of Richard Mille
McLaren Automotive:
McLaren Automotive and Richard Mille have been working together since 2017. Both companies aim for perfection and focus on performance, and this was the case as they went on to produce some fantastic watches. These watches were produced in limited editions and are therefore extremely rare. You can get the Richard Mille RM 40-01 Automatic Tourbillon McLaren Speedtail for around $1,000,000 and the RM 11-03 McLaren for about $450,000.
Ferrari:
This is a recent one. Ferrari and Richard Mille partnered in 2021 and just a few weeks ago launched the RM UP-01 Ferrari, which we have covered in this blog. Like McLaren, Ferrari also produces sports cars and is one of the world's most famous sports car manufacturers. Ferrari also aims for perfection, which can be seen in the form of the RM UP-01, the thinnest mechanical watch in the world. And just as you thought, this watch was limited to 150 pieces. If interested, you can purchase this watch for about $1,800,000. 
Rafael Nadal: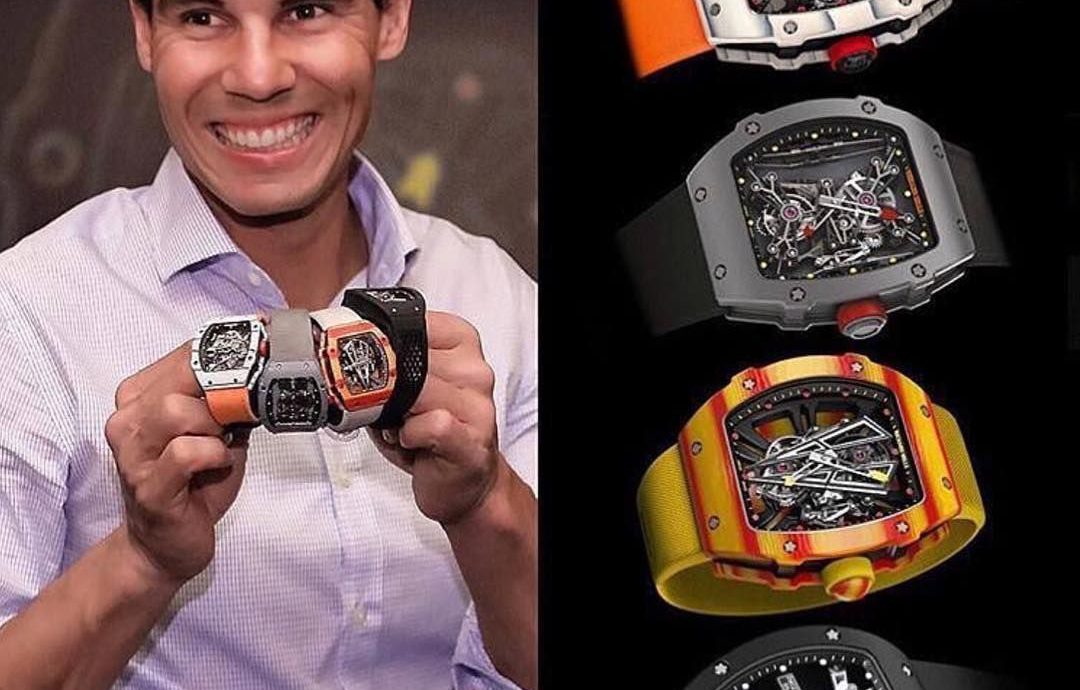 The tennis superstar and Richard Mille are not only partners but friends. One word that could describe Rafael Nadal is "Victorious." Seriously, the guy has won so much over his career and is still going at the age of 36, when most athletes think of retirement. Anyhow, the Spanish star and Richard Mille have put out many timepieces, including the RM 35-01 Rafael Nadal NTPT, which you can get for around $400,000, and the RM 35-03 Automatic Winding Rafael Nadal, which can be bought for around $1,000,000, and the Richard Mille Rafael Nadal Signature Red which you can purchase for about $500,000. 
Felipe Massa:
The longest-lasting sports partner of Richard Mille, Felipe Massa, an excellent driver, is also a great friend of Richard Mille. He is a long-serving test driver for Richard Mille, therefore, and helped the brand reach astonishing heights in watchmaking. Together, the two have produced many timepieces. These include the Richard Mille Felipe Massa Bronze 50 mm, Richard Mille Felipe Massa Chronograph Limited Edition Titanium 50 mm X 42 mm, Richard Mille Felipe Massa Texas Edition Carbon, Richard Mille Felipe Massa Asia Boutique Limited Edition Ceramic, Richard Mille Flyback Chronograph Felipe Massa Carbon, and Richard Mille Felipe Massa Chronograph 18k Rose Gold/Titanium. Some of the more watches the two put out are the Richard Mille Felipe Massa Chronograph Le Mans Titanium, Richard Mille Felipe Massa Orange Storm Carbon/Ceramic, and the Richard Mille Felipe Massa Last Edition Titanium and Blue Ceramic. These watches are in the price range of $250,000 - $530,000. 
Bubba Watson: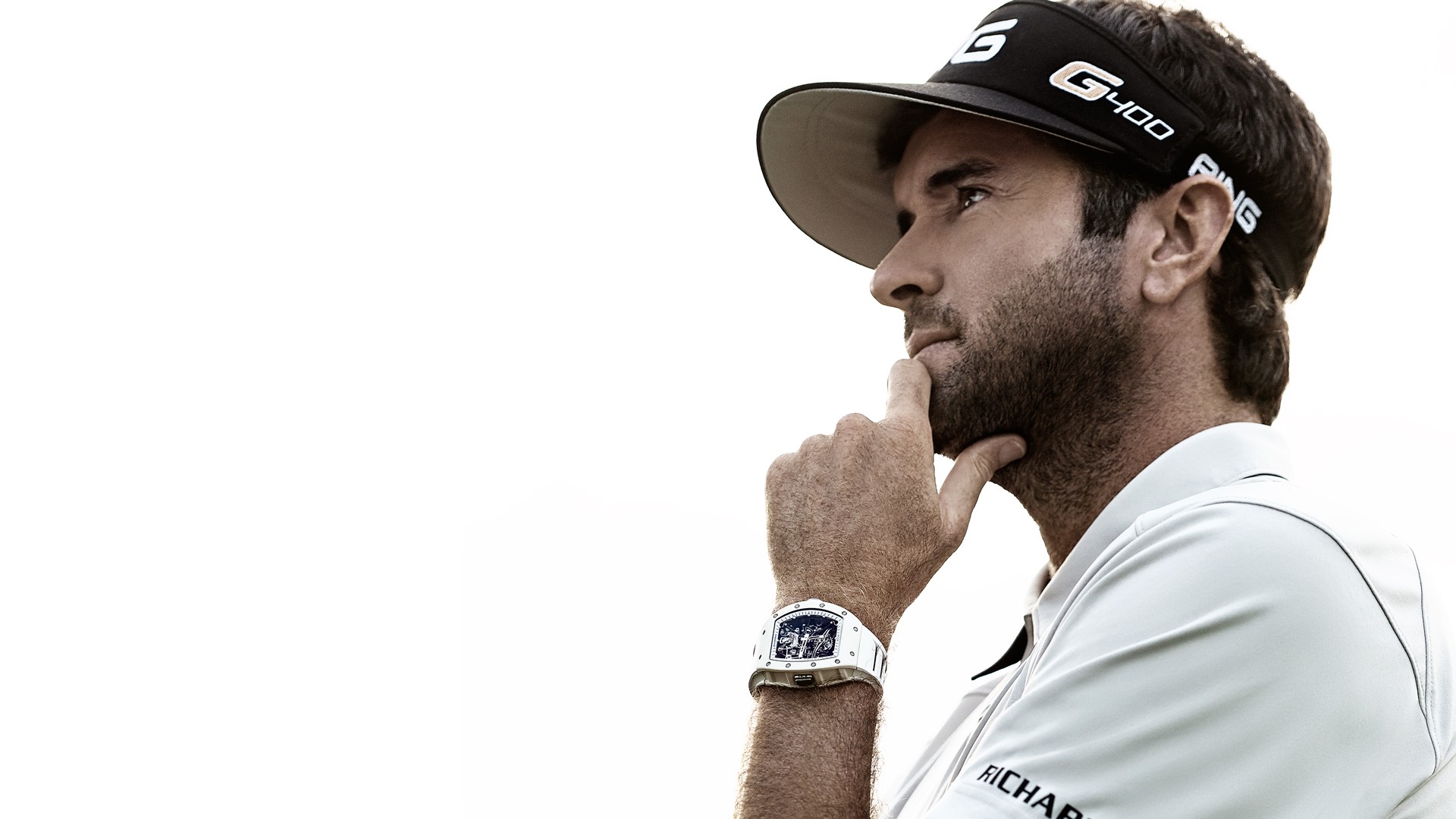 Bubba Watson and Richard Mille have been partners since 2011. The American golfer is quite a powerful hitter, and this proved to be a challenge to Richard Mille, who had to produce a watch to withhold the accelerations and decelerations that accompany Bubba's powerful hits. They have put out some brilliant watches with their partnership now over a decade old. These include Richard Mille Bubba Watson America's White Drive Titanium which you can get for about $480,000, and the more recent one, the Richard Mille RM 055 Manual Winding Bubba Watson, which you can purchase for over $360,000.
Roberto Mancini:
The Italian national football team manager and former player is a true gentleman of the sport. Richard Mille created two unique timepieces for Roberto Mancini, which display the match time. Simply special. If you want this unique watch wrapped around your wrist, you would have to pay over $500,000 for the Richard Mille RM 11-04 Roberto Mancini.
Yohan Blake: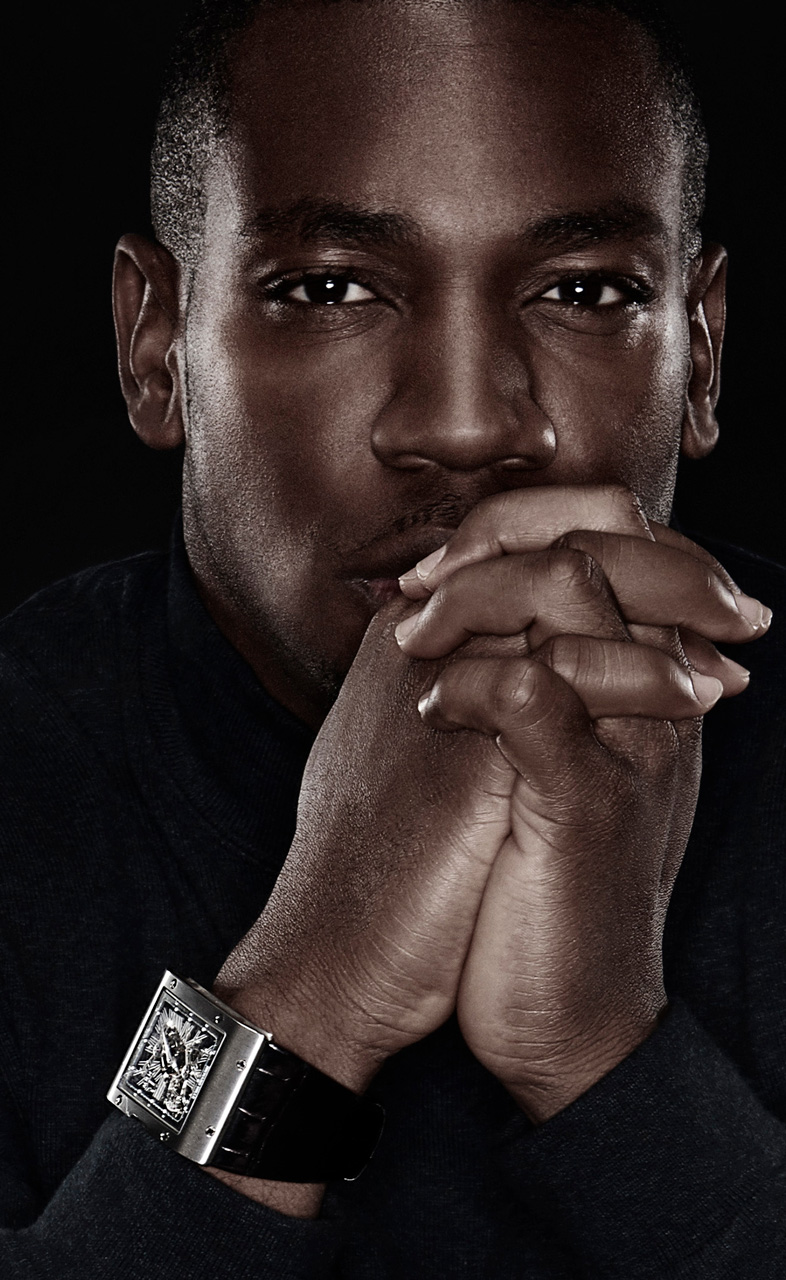 The second fastest man on earth, Yohan Blake, is a highly generous personality and helps the underprivileged children back in his native Jamaica. He has many achievements to his name. His partnership with Richard Mille began in 2012. Since then, the two have released some spectacular timepieces. These spectacular timepieces include the Richard Mille RM 61-01 Manual Winding Yohan Blake, which you can get for over $360,000, and the Richard Mille RM 61-01 Yohan Blake, which you can purchase for a price of about $300,000. 
Other Partners:
Fernando Alonso, Mutaz Essa Barshim, Jessica von Bredow-Werndl, Sébastien Buemi, Martin Brundle, Pierre Casiraghi, Jackie Chan, Didier Drogba, Romain Grosjean, Cristie Kerr, Cyril Kongo, Charles Leclerc, Ester Ledecká, Yuliya Levchenko, Sébastien Loeb, Diana Luna, Pablo Mac Donough, John Malkovich, Benjamin Millepied, Akani Simbine, Wayde van Niekerk, Sébastien Ogier, Simon Pagenaud, Alexis Pinturault, Alain Prost, Mick Schumacher, Nafissatou Thiam, Jean Todt, Stoffel Vandoorne, Pharrell Williams, Michelle Yeoh, Johannes Thingnes Bø, and Julian Alaphilippe.
Conclusion:
Richard Mille has a lot of partners. Most of them are athletes, which shows that the brand focuses on pushing its watches to the limits. This is a reason why Richard Mille watches are so durable. Partners like Ferrari and McLaren also push the luxury watch manufacturer to aim for technical perfection. If any of the watches we have mentioned in this blog interest you, you can purchase them through our website.
---