Patek Philippe's Tiffany Blue Nautilus Watch Was Just Sold For Over $6.5 Million
The 'Holy Grail' of sports watches, the Patek Philippe Ref.5711, was discontinued in January. But the President of Patek Philippe, Thierry Stern, in an interview with Times, said that there would be a 'Victory Lap' or the brands most popular watch. Everyone thought that they had seen it when a Green dialed 5711 made an appearance at Watches & Wonders this year. It turned out that Patek Philippe had another version up their sleeves.
The Tiffany Blue Patek Philippe 5711 is the limited edition of watchmaking's most desired steel reference. It is produced for sale at Patek Philippe's well-known retail partner, Tiffany & Co., and it marks 170 years of their partnership.
The watch will be available at Tiffany & Co. boutiques located in New York, Beverly Hills, and San Francisco. It is very similar to the ref.5711/1A in every way, just with the addition of a Blue Tiffany dial and a Tiffany stamp. Produced in 170 pieces, it comes with '170th Anniversary Tiffany & Co – Patek Philippe 1851 – 2021' carved on it. The watch will retail for about $52,635. It will be the last dance of the Nautilus ref.5711, this time for real.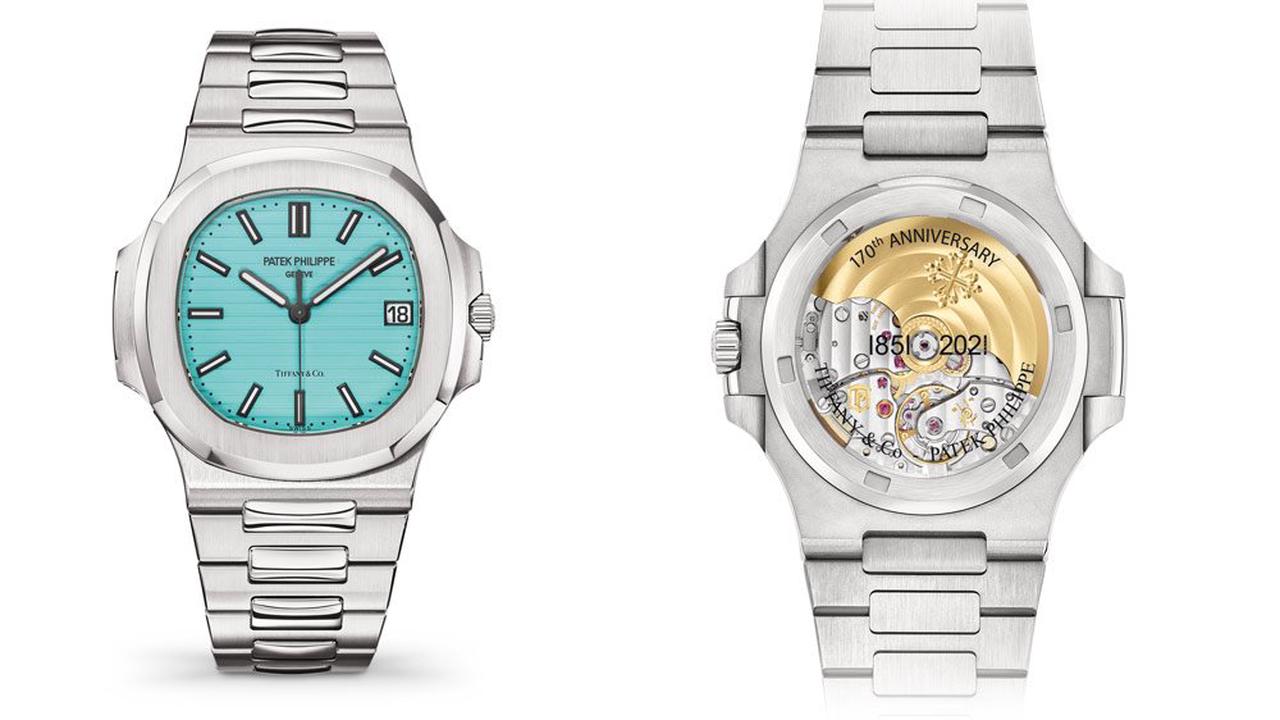 Other than marking the 170 years of partnership with Tiffany & Co., the final 5711 also marks the purchase of Tiffany by the LVMH group. President of Patek Philippe, Thierry Stern, said: "This was my little gift to say congratulations on buying Tiffany." " It was quite clear I had to choose something unique and exceptional. This is really the last round of this watch." The watch was presented to the LVMH executives by Stern during a virtual meeting.
The Watch
This 5711 feels more like a Tiffany product rather than a Patek Philippe product. The blue dial really announces itself.  Patek Philippe Tiffany Blue Nautilus ref.5711 has a diameter of 40mm and is 8.3mm thick, and the Tiffany Blue dial is placed in a stainless steel case with blackened gold indexes. It has a stainless steel bracelet and a water resistance of up to 120 meters. It features the Caliber 26-330 SC, which functions hours, minutes, seconds, and date, and has a power reserve of 35-45 hours. Produced in only 170 pieces, this Patek Philippe watch will retail for $52,635 and will mark an end to the Patek Philippe Nautilus ref.5711.
The First One
On December 11th, around 10:30 AM, Patek Philippe Nautilus Ref.5711 in Tiffany Blue, the first one of the 170 limited pieces signed by both the manufacturer and the retailer, was sold for a whopping price of $5,350,000, which goes up to $6,503,500(more than 120 times its retail price) with the buyers premium.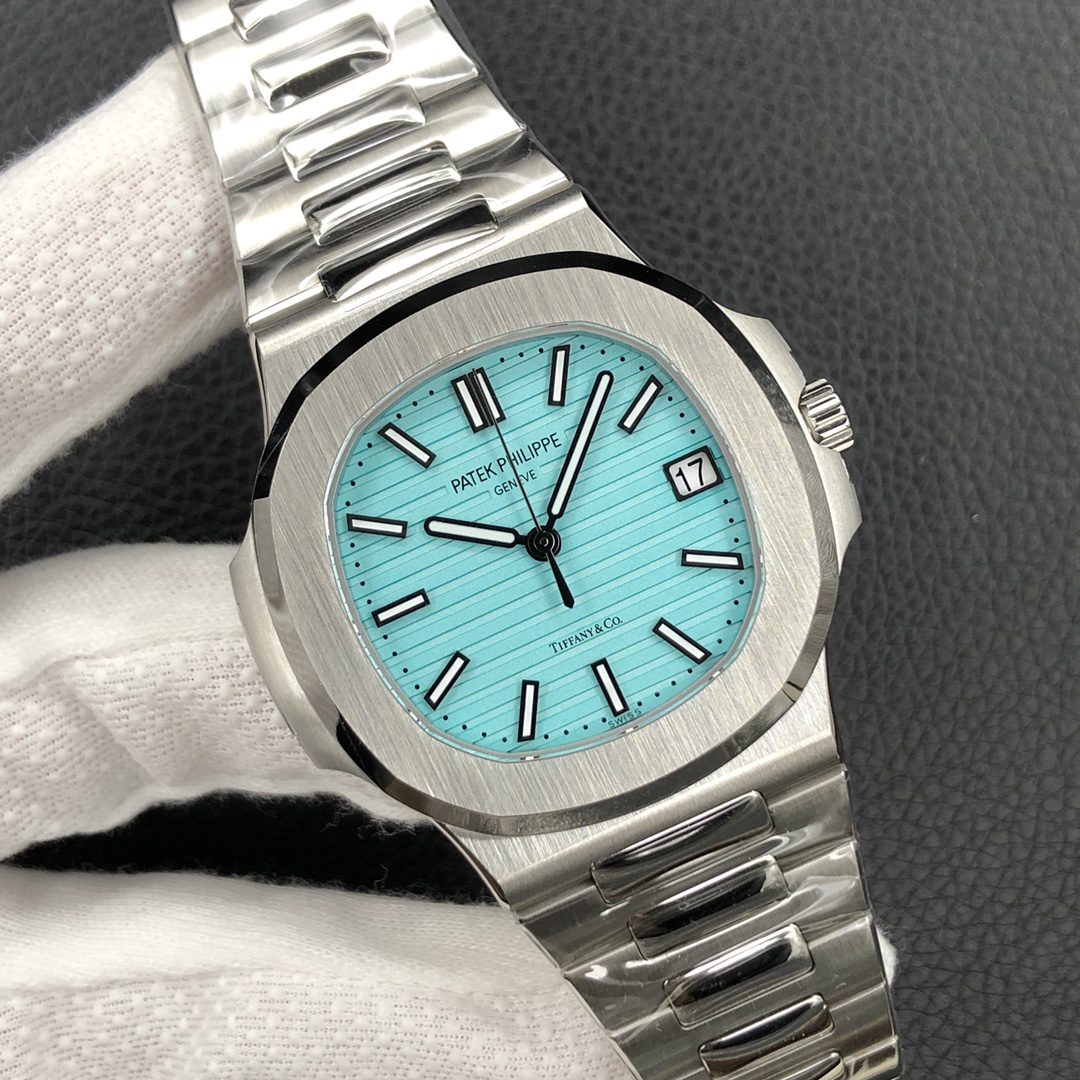 It was a tough competition with buyers from all over the world participating in this auction.
The bidding started at $20,000. Then it jumped to $50,000, and then to $500,000, and then it climbed up into the millions. A battle began between online bidders, represented by Phillips specialists Clara Kessi and Marcello de Marco until it hit the 5 Million mark. Then an in-room collector named Zach Lu jumped in, and the bidding began to move in increments of $50,000. Clara's bidder had almost won when a New York online bidder shocked the crowd and took the bid to $5,250,000. Then an online bidder from the UK took it to $5,300,000, and finally, another online bidder from New York, paddle number 9252, bidding $5,350,000 and the watch was sold.
After adding the auction premium, the price goes up to $6,503,000, making it the ninth most expensive at auction ever.
Fun Fact: New York was the birthplace of the Tiffany & Co. and Patek Philippe partnership, and the most expensive and the last Nautilus 5711 ended up here.
The proceeds from this whopping $6.5 Million will go to the Nature Conservancy. Patek, Tiffany, and Phillips made zero dollars from the sale of this watch.
Jay-Z Was Seen Wearing One
Famous rapper, music producer, and an avid collector of watches, Jay-Z is the first owner to show off the last Patek Philippe Nautilus ref.5711. Being only produced in 170 pieces, this watch is highly desired. As a watch enthusiast, Jay-Z might have bought it, or there is another possibility that, being the ambassador of Tiffany & Co., Jay-Z was offered another example.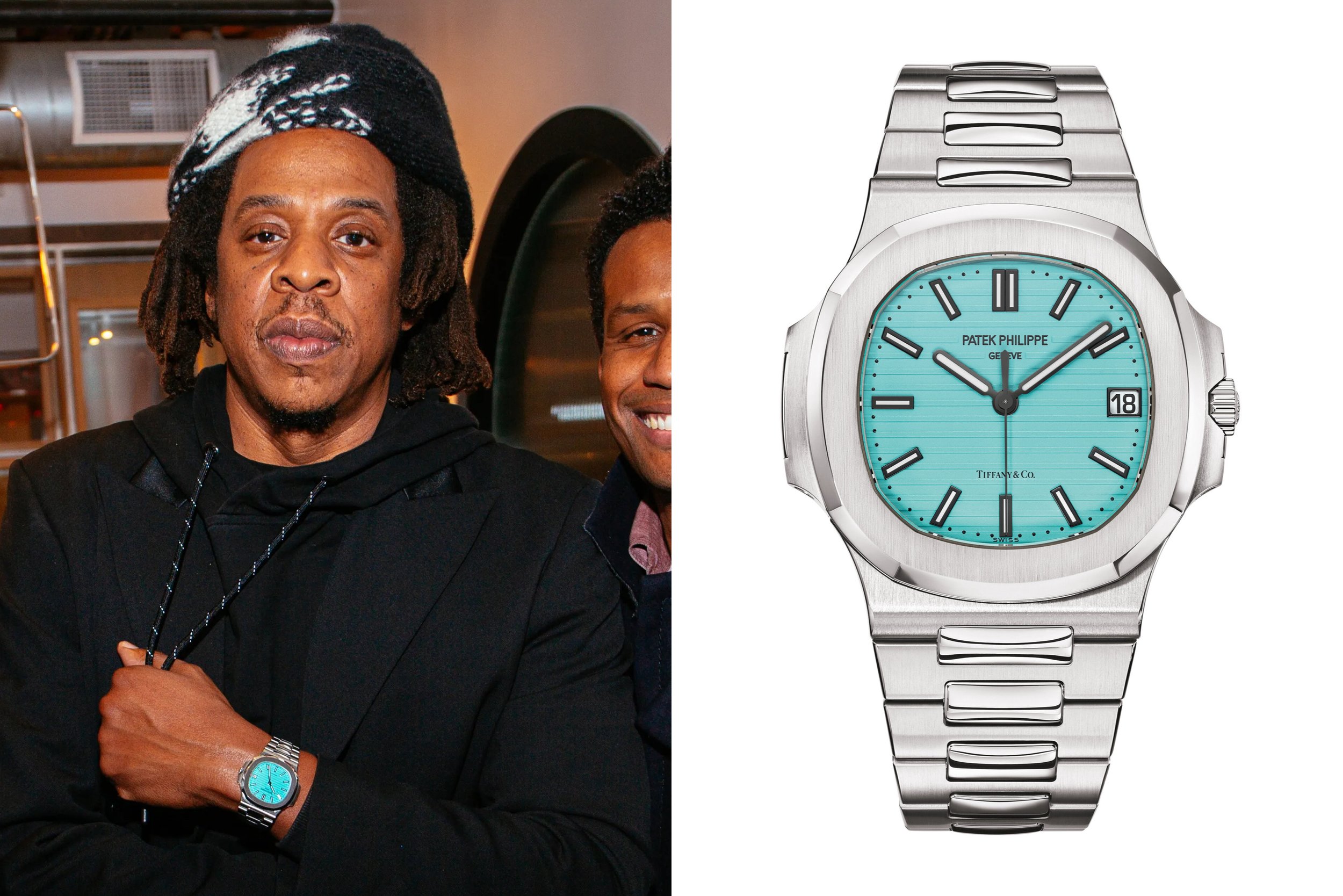 Jay-Z was out for business purposes, and the picture was posted on Instagram by Alex Todd, a celebrity jeweller who serves as a personal jeweller to Jay-Z.
Conclusion
Patek Philippe's Nautilus 5711 was one of the watches that helped create the concept of the luxury sports watch, and it is one of the brand's rare watches to be produced in steel. The Patek Philippe Tiffany Blue Nautilus ref.5711 is very similar to the other steel 5711's but being the last Nautilus ref.5711 ups its collectivity.
---