5 Most Expensive Richard Mille Watches That Only Billionaires Can Afford
A Richard Mille watch tells more than just time; it tells about class, luxury, sophistication, and much more! This Swiss watchmaking brand creates timepieces as high and attractive as expensive, with profound attention to detail. This article talks about the 5 most expensive Richard Mille watches and the reason behind them being so costly. Let's dig in.
5 Most Expensive Richard Mille Watches
1.    Richard Mille Tourbillon RM 56-02 Sapphire 
This model was released in 2014 and is the brand's most expensive watch ever, set up at $2 Million USD. The reason for its cost is its All-Sapphire case.
An All-Sapphire case allows the wearers to see through the watch and look at the delicate movement inside the watch. The Sapphire is also very durable and resistant to scratches.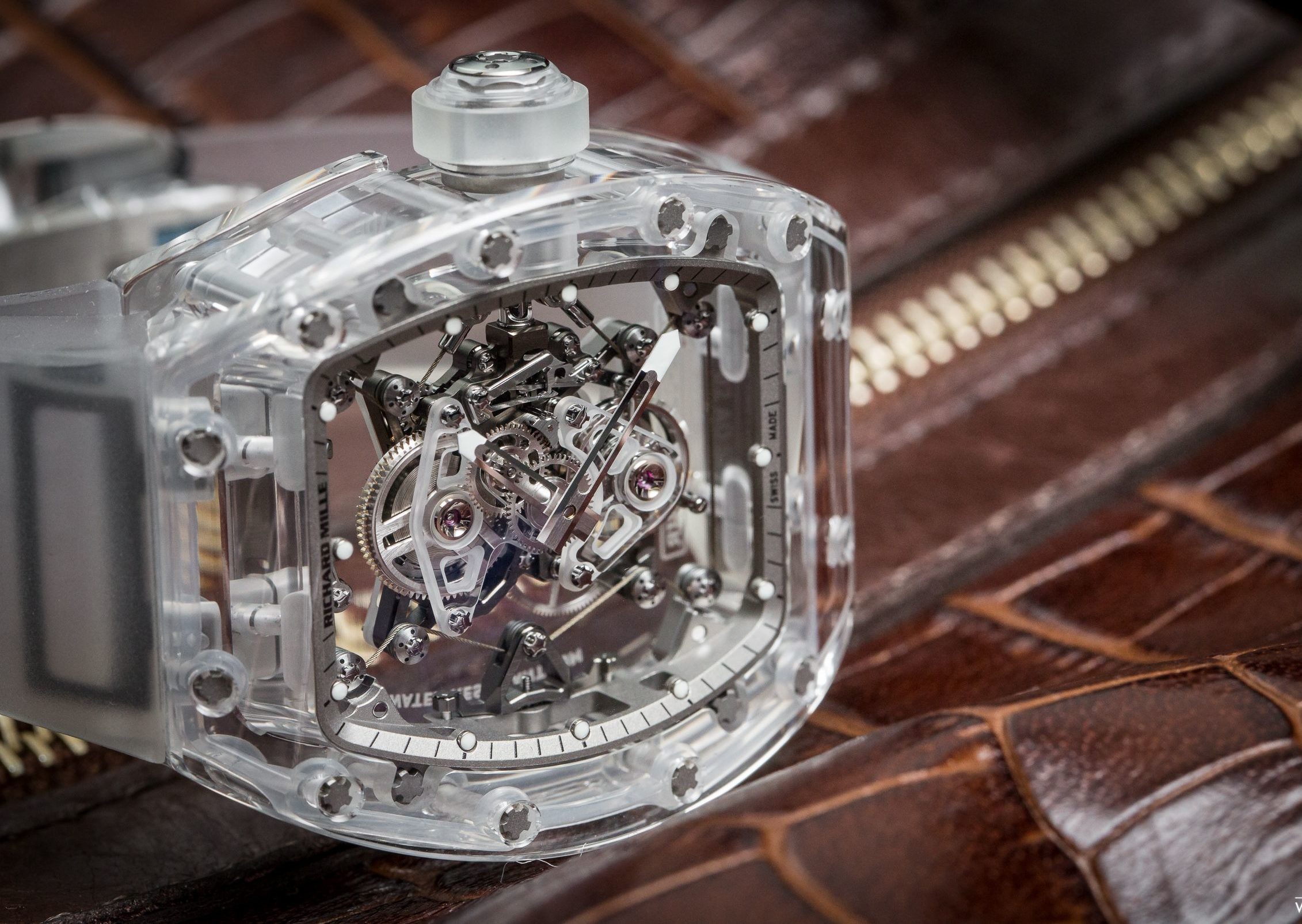 The RM 56-02 is the remastered edition of the RM 56, which came out in 2011. Both of them feature a manual winding Tourbillion movement. It also shows the hours, minutes, and a tension indicator.
2.    Richard Mille RM 56-01 
This was another remastered version of the RM 56. Released in 2013, this Richard Mille watch price is $1.85 Million USD. It also featured a manual winding Tourbillion Movement. The RM 56-01 also features hours, minutes, and a function selector like its other editions.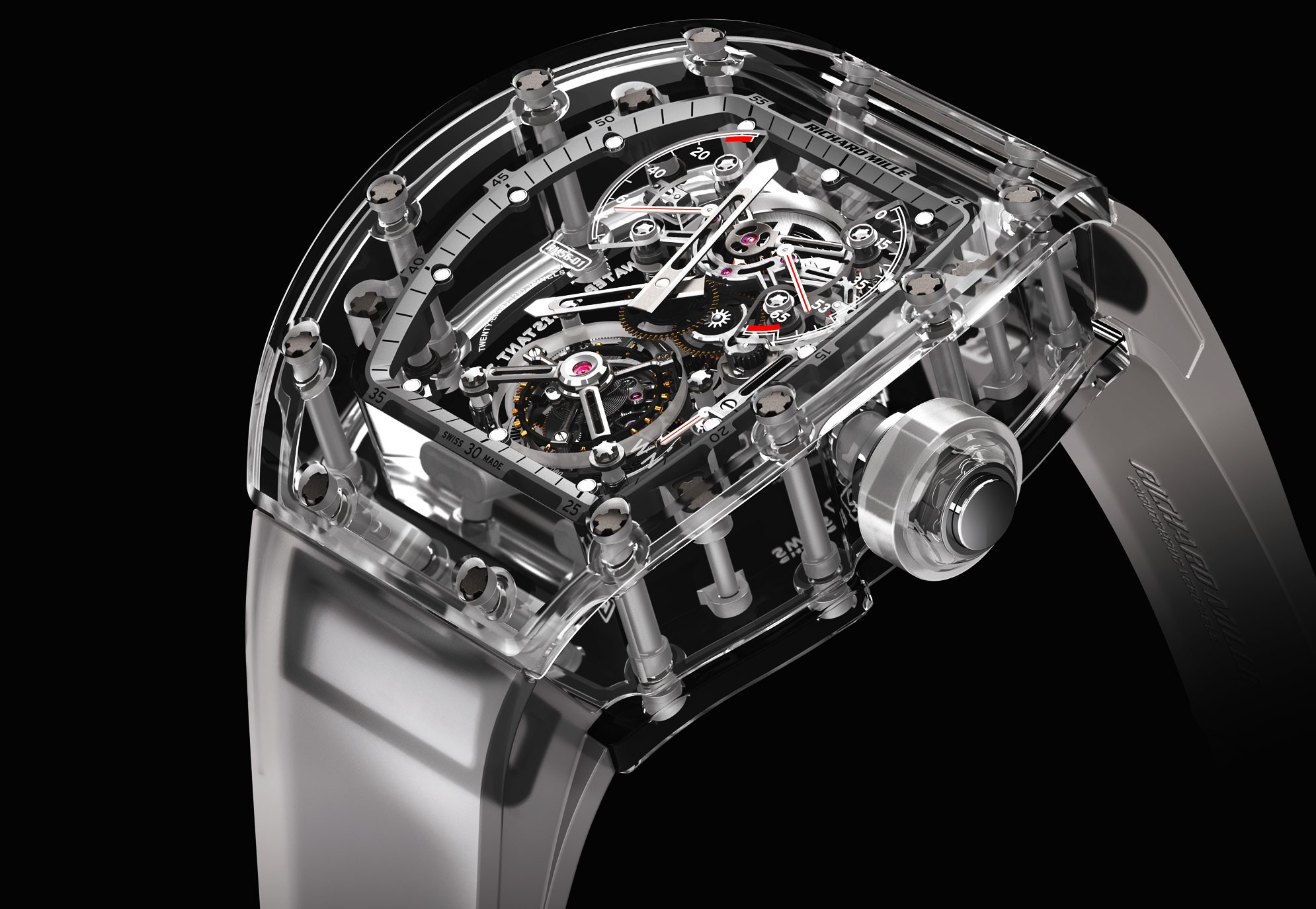 This watch was also made from a sandwich-design technique, and the case of this model is also carved out from a block of Sapphire. Apart from that, it also has a Sapphire crystal baseplate which supports the manual winding Tourbillion movement. As only 5 pieces were made, this is a truly unique and limited edition.
3.    Richard Mille Panda RM 26-1 
It would be so hard to find a watch as cute as this one. Just like there are people who are interested in watches, there are people who love Pandas. They find Pandas absolutely adorable. With this watch, Richard Mille wanted to bring together these two groups of people. This design was made to showcase the nature of Pandas. This watch is very rare and, there are only 15 pieces in the world which makes it super expensive ($1.6 Million USD). This watch too features a manual winding Tourbillion Movement, which provides hours, minutes, and power-reserve indicators.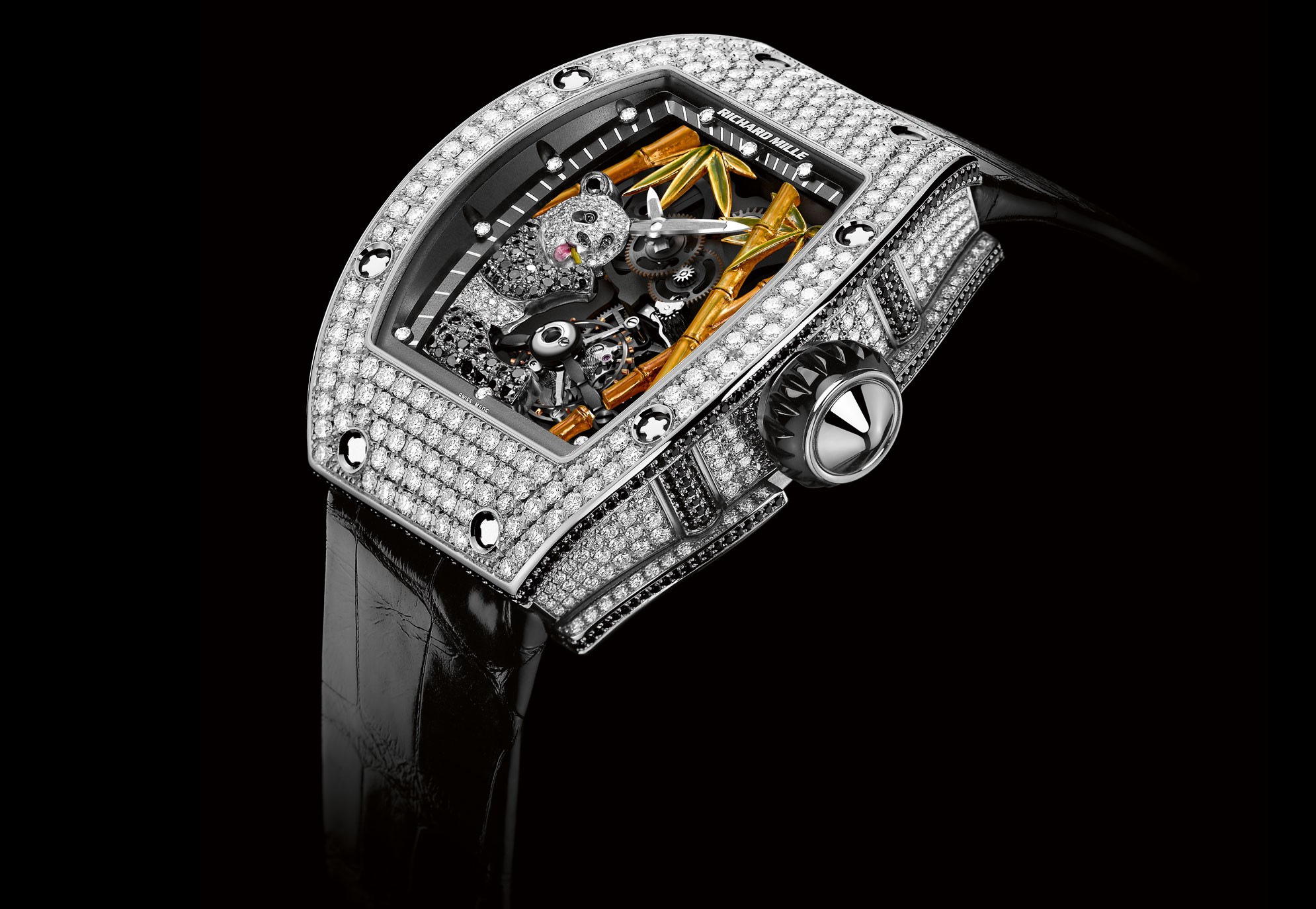 It has an onyx base plate which is lavish black. The luxury doesn't end here as it also comes with an 18k White Gold Panda set. The Panda sits in front of the bamboo trees, which are hand-painted and hand-sculpted. This extremely cute and rare design makes this watch the definition of luxury. 
4.    Richard Mille Red Skull RM 52-01 
If you are interested in edgy designs, the RM 52 series is made for you!
 This watch features a manual winding Tourbillion caliber which is built on a PVD-treated Grade 5 Titanium baseplate. The case, bezel, and case back are made up of Tetragonal Zirconia Polycrystal Ceramic and Carbon Nanotubes. This Richard Mille watch comes with an 18K Red-Gold Skull on its dial. It is also very rare, and they're only 30 pieces of this cold watch were made. The rarity is also one of the contributing reasons to this Richard Mille watch price of $1.42 Million USD.
5.    Richard Mille RM 018 Boucheron 
In the celebration of Boucheron's 150th Anniversary, Richard Mille created this design. This watch was a collaboration with Boucheron, which is a Jewellery brand. 
Only 5 pieces are produced every year. Boucheron itself chose the precious stones on the watch. The rarity, collaboration, and the precious stones used all contribute to this Richard Mille watch price of $1 Million USD.
WHY ARE RICHARD MILLE WATCHES SO EXPENSIVE?
1. Design
The Richard Mille watches are so unique that one could recognize them in a glimpse. The company took inspiration from the Formula 1 cars. You can see famous sports players like Rafael Nadal wearing the Nadal watches. The designs are so delicate and don't look outdated even today. The design isn't only about the good looks but the way the materials are put together to make a watch that looks stunning.
The watches look bulky to the eye, but they are incredibly light due to the material used to make them. The designs are so complex, which is one of the reasons why the watches are popular and expensive. The complexity of the watch is the reason why it takes so long to generate one. They are made so that they can fit every wrist. The Richard Mille watches are ergonomic, which means that they can oppose the wrist strains. They are also dustproof and waterproof, which is another reason why it's costly.
2. Materials
These materials are typically used in high-risk industries like, Aerospace. These materials are of high quality and extremely lightweight, which is the reason why the watches are so easy to carry around.
Other materials used are, Quartz, Gold, Carbon, Carbon nanotubes, Silicon Nitride, and perfluoroelastomer. The lightweight and durability are the reasons why this watch is expensive.
3. Movements
The watches aren't only about the unique architecture and exquisite designs, but the inner mechanism of the watches is also finely built. We previously mentioned high-quality materials; they aren't only used for the case but also the movement. The movement should be of high accuracy and should be durable.
As always, they also use materials that aren't typically used to make watches. The crafting techniques to make these watches are also scarce; the hand polishing and the satin finishes make this watch worth 10 times more. The watch being durable makes it worth it to buy one.
4. Scarcity
The Richard Mille watches are extremely complex, and it takes a lot of time to make one. The company only makes 5,000 watches per year. This also causes the prices of the watch to rise, and only billionaires can afford one. As the supply is limited, the sales grow. 
5. Richard Mille watch-A Status Symbol
With all the points mentioned above, it's easy to understand that these watches were made for those who live luxurious and royal lives. 
Conclusion: 
This article proves that Richard Mille Maclaren watches arent just timepieces but a status symbol for the upper-class. These marvelous timepieces offer both functionality and unique design.
---