Audemars Piguet Has Just Released 7 New Royal Oak Timepieces
Last month, Audemars Piguet announced that they were going to release seven new Royal Oak models. This was the perfect moment to make such an announcement as the watches and wonders 2023 was just around the corner. With the releases of new watches expected to slate by the end of this month, it was a classic move by Audemars Piguet. 
The Audemars Piguet Royal Oak: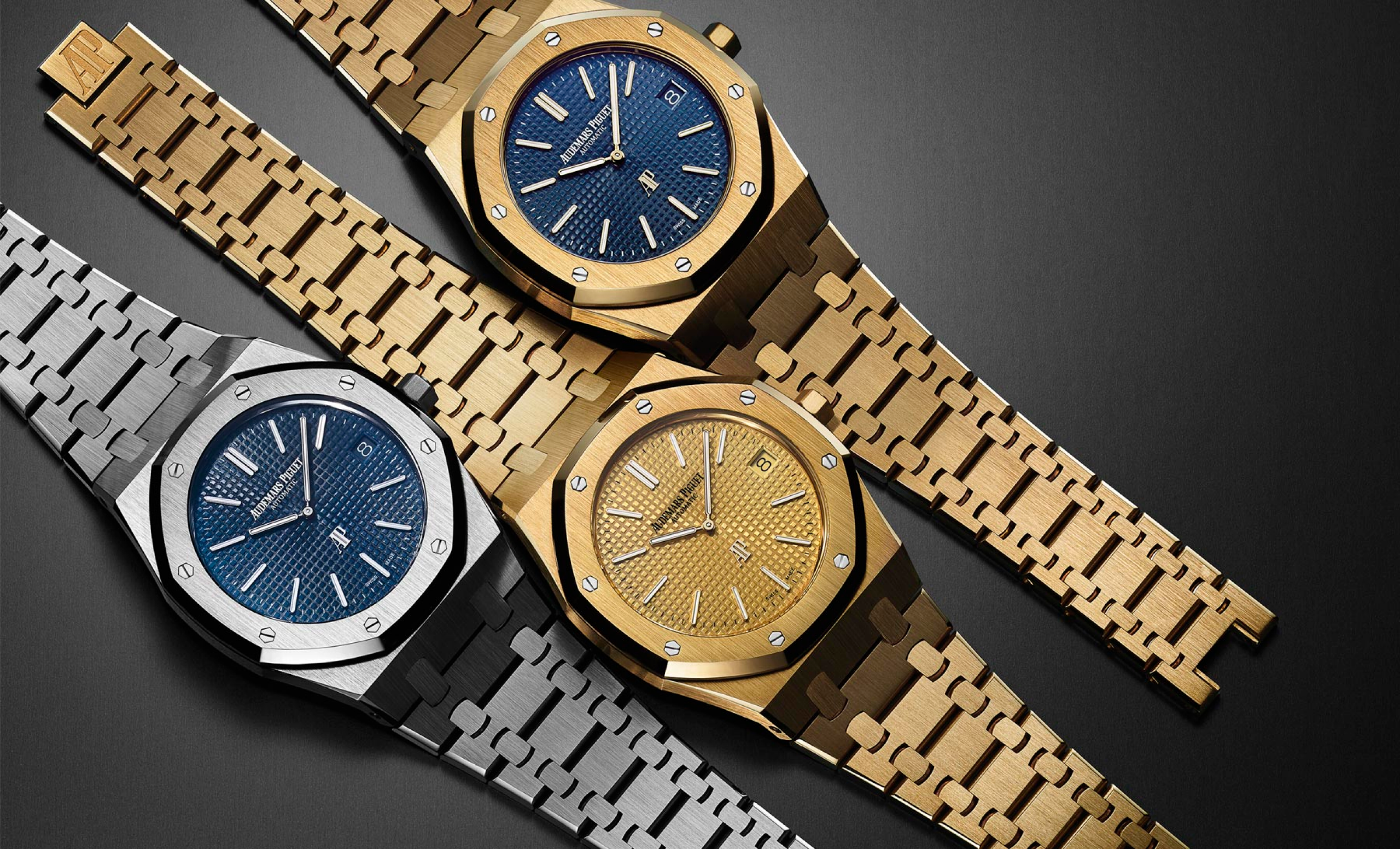 The face of Audemars Piguet, the Royal Oak, is a name that is on the tip of the tongue of everyone involved in the luxury watch industry. Such is the prestige around its name that it is often classed as the greatest watch of all time. Its history makes this watch even more unique and even more special in the hearts of luxury watch collectors around the globe. 
If you do not know the story of Royal Oak, then here we have it in the words of Mr.Gerald Genta himself. 
"One afternoon, at four o'clock, Mr. Georges Golay, the Managing Director of Audemars Piguet, rings me up and tells me: "Mr. Genta, I need a steel sports watch that has never been done before, I want it to be something totally new and waterproof." On my part, I understood that what he was looking for was a brand-new waterproofing technology. "I want the design by tomorrow morning." I designed it overnight and my idea was to replicate the system of the scaphander's helmet on the watch case. With the eight screws and with the joint visible on the case's exterior. So I was given the 'green light' straight away to begin work on the prototype. I completed the prototype myself within a year. In 1970, I designed the watch. And it took one more year before industrial production, which finally came about in 1972."
This watch saved Audemars Piguet from going out of business during the Quartz crisis and is one of the reasons, if not the only reason, why Audemars Piguet is so successful today.
Well, now then, let us look at the seven new Audemars Piguet Royal Oaks. 
AUDEMARS PIGUET ROYAL OAK SELF-WINDING WITH TURQUOISE DIAL
With its competitors making luxury sports watches in a turquoise dial, Audemars Piguet dropped the bombshell when it announced the new Royal Oak Selfwinding with a turquoise dial. However, the dial is actually made out of turquoise (the stone!). It is a 37 mm, 18 k yellow gold luxury sports watch featuring the latest Self-winding Calibre 5900 with hours, minutes, and seconds. Coming in 37 mm, this is a sweet spot for sizes as it can be worn on a lot of wrists by both genders.
AUDEMARS PIGUET ROYAL OAK OFFSHORE SELF-WINDING CHRONOGRAPH IN BLACK CERAMIC
This is the first time we have seen a 42 mm Royal Oak Offshore self-winding chronograph in an all-black ceramic case. This case and bracelet material has been popular among the fan base in recent times in watches such as the Audemars Piguet Black Ceramic Royal Oak Selfwinding Chronograph and the Limited Edition Audemars Piguet Royal Oak Selfwinding Carolina Bucci. This watch gives a fantastic monochrome look with the black ceramic case and bracelet combined with the white hour markers (in a perfect white and black combination) and 18k white gold bezel screws. Luminescent coating is used to make the hour and minute hands, small seconds, chronograph minutes, and chronograph hours visible at night. This gorgeous watch features the in-house integrated chronograph movement with a flyback function, the Calibre 4404. Through its sapphire crystal caseback, a 22 k pink gold oscillating weight engraved with the initials of AP. 
AUDEMARS PIGUET ROYAL OAK "JUMBO" EXTRA-THIN WITH BLUE GRAINED DIAL
A simple dial change can actually change the entire look of a watch. Here, Audemars Piguet paired up the popular "Jumbo" extra-thin model with a blue-grained dial. Blue-tone PVD with a translucent coating was used to achieve the texture of the dial. Here a translucent coating using a finer and brighter grain was used to give a more significant effect when under the light. Unsurprisingly, this Royal Oak is a limited edition. This 39 mm by 8.1 mm 18 k white gold Royal Oak features the latest ultra-thin 7121 Calibre. Further, through the sapphire crystal caseback, an 18k pink gold rotor can be seen.
AUDEMARS PIGUET ROYAL OAK OFFSHORE SELF-WINDING CHRONOGRAPH IN BLACK CERAMIC AND YELLOW GOLD
With its 30th anniversary, we expect to see much more from the Royal Oak Offshore this year. Here we have another Royal Oak Offshore in black ceramic, but this time, Audemars Piguet went a step ahead and added 18k yellow gold making a beautiful two-tone combination. This model comes in 43 mm and a Méga Tapisserie dial pattern. The yellow gold is also used to frame the caseback through which the Calibre 4401 flyback chronograph is visible. 
AUDEMARS PIGUET ROYAL OAK SELF-WINDING 34 mm AND 37 mm AND SELF-WINDING IN BLUE SMOKED DIALS
There is nothing that is hugely different between the trio of these self-winding watches other than some minor changes in appearance. Here we have a smoked blue dial with a more profound and moodier hue than we have seen previously. These models also come in diamonds. However, these come in a white gold casing. With the help of PVD, the midnight-appearing hue is achieved. Further, the smoking effect is achieved by rotating the dial and spraying colored varnish onto the periphery of the dial. The overall effect makes the Tapisserie dial look absolutely stunning. 
Conclusion: 
All the seven new Royal Oak releases are a perfect way to prepare for the watches and wonders 2023. The Swiss-based luxury watchmaking brand is always thinking about releasing something new, and these seven new Royal Oaks are some brilliant releases.
---