The Most Expensive Watch Ever Sold: What Makes The Patek Philippe Grandmaster Chime ref. 6300A So Special
It was on the 9th of November, three years ago in 2019, that the Patek Philippe Grandmaster Chime ref. 6300A, which is the first and only Patek Philippe Grandmaster Chime in stainless steel, changed the record books by becoming the most expensive watch ever to be sold at an auction. It was sold for a whopping CHF 31,000,000, roughly around $31.2 Million at that time, which is around $32.2 Million today. What made this watch so special? It is a question that we are going to answer today.
History Of Patek Philippe Watches At Auctions:
Patek Philippe watches have always fared well at auctions. For example, the ref. 1518 in steel which was sold for about $11 Million. Another ref. 1518 this time "pink on pink" was sold for $9.6 Million.
Moreover, the second most expensive watch ever sold at auction is also a Patek Philippe watch which is the Patek Philippe Henry Graves Supercomplications which was sold for around $11 Million back in 1999. And finally, the Patek Philippe Grandmaster Chime ref. 6300A, which was sold for $31.2 Million back in 2019. This shows Patek Philippe watches are always well received at auctions. 
How Is The True Value Of A Timepiece Determined?
Before discussing why the watch has such a high value, it is always better to know how the value is determined first.
To determine the value of a timepiece, a few factors are considered. These factors include whether or not the timepiece is limited, is made from rare and luxury materials, has hype around it, has various complications, has a great movement, and whether or not it is enriched with jewels. If all of these boxes are ticked, the timepiece's value is expected to be extremely high, as in the case of the watch in question today, the Patek Philippe Grandmaster Chime ref. 6300A.
What Makes The Record-Breaking Watch So Special?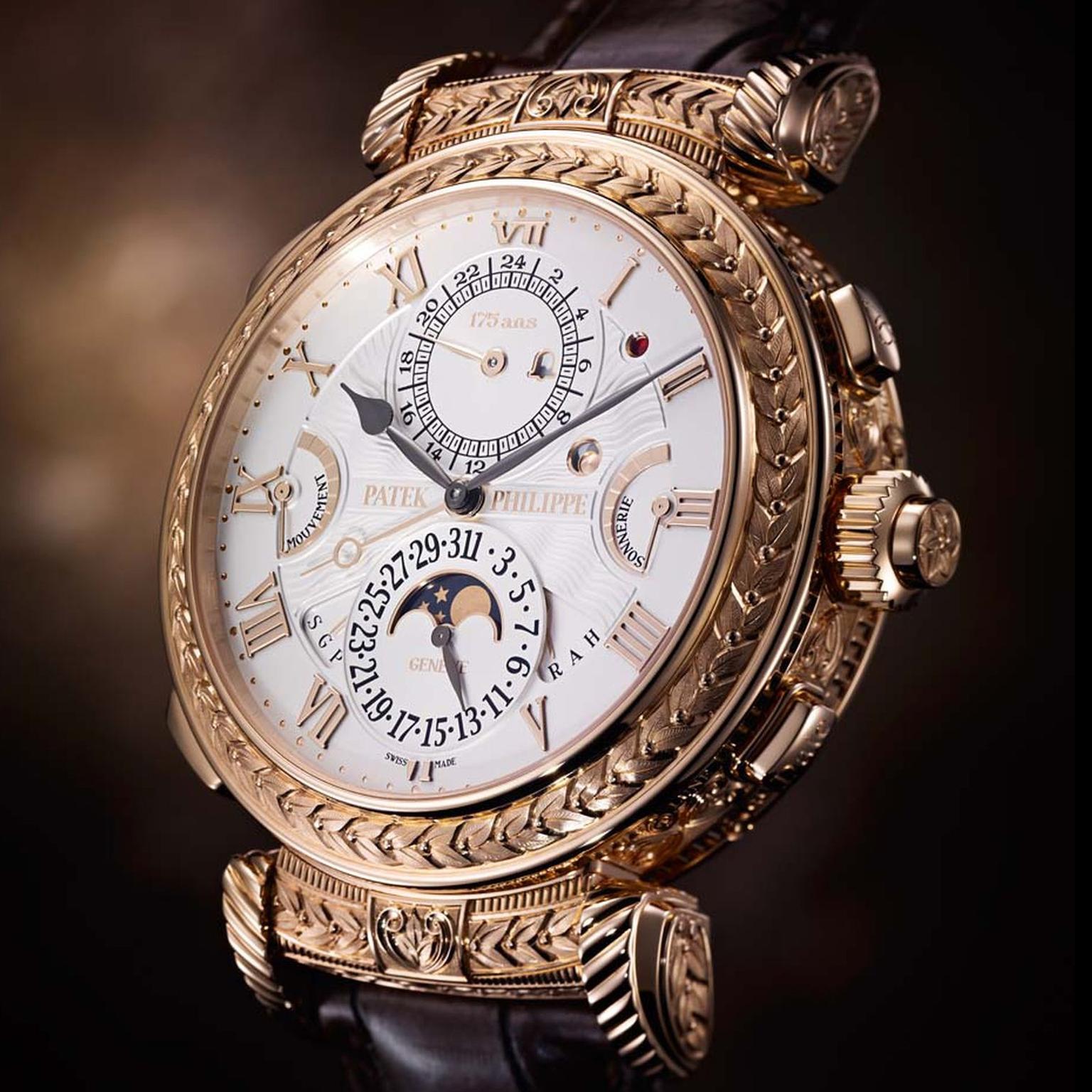 First and foremost, this watch has almost everything one could look for in a watch. It features 20 complications, making it one of the most complicated watches ever created by Patek Philippe, along with other Grandmaster Chime references such as ref. 6300G-010 and ref. 5175R-001. The ref. 6300A has everything from date repeater and perpetual calendar to second time-zone and moon phases. 
Secondly, the ref. 6300A has two independent dials, a salmon dial in the front, and a black dial on the back, that feature these 20 complications because, of course, one dial could never be enough for 20 complications. These two dials indeed contribute to the uniqueness of the watch. 
We can not lie. This watch is a beautiful piece. Just look at it; there is no way you would not like to own it. It is stunningly designed. We are sure that the owner of the watch thought the same when he decided to bid $31.2 Million for it.
Moreover, this watch features a rare and excellent movement in Caliber 300 GS AL 36-750 QIS FUS IRM, a manual winding movement with functions, hours, minutes, seconds, perpetual calendar with date, day, month, leap year, year, and moon phase indicators), 24-hour hand, day/night indicator, grande sonnerie, petite sonnerie, minute repeater, date repeater, alarm. Patek Philippe spent 11 years making this movement. 11 years! And the fact that there is only one of them in existence is mind-blowing.
This is also the first and only Grandmaster Chime in stainless steel, which makes it even more special, and, as the watch says, "The Only One." Now that we have mentioned it, the dial of the watch says "The Only One," which also contributes to the value of this watch. 
Lastly, there are only 7 Patek Philippe Grandmaster Chime ever created, and one of them is displayed in the Patek Philippe museum in Geneva. The watch is extremely rare and limited, making it even more special.
The Patek Philippe Grandmaster Chime ref. 6300A is a milestone in horology and arguably one of the greatest innovations in watchmaking history. Therefore, we think its price tag is perfectly justified, and it is indeed worth the money.
Conclusion:
Patek Philippe watches always go for big at auctions. This shows that the brand produces one of the finest timepieces in the world and the Grandmaster Chime ref. 6300A is no exception. It is unique and deserves its price tag. You do not see a watch this complicated and with a movement worked on for over a decade every day.
---