How Are Richard Mille Watches Produced?
Richard Mille is one of the most known luxury watch manufacturers. The watch enthusiasts love his creations as he always comes up with something new and innovative. We all know how successful and popular the brand is, but we ask ourselves, how are these Richard Mille watches made? Well, today we are going to answer your question.
HOW ARE RICHARD MILLE WATCHES PRODUCED?
It is a fact that Richard Mille watches are some of the most complicated watches in the luxury watch market. 
Richard Mille officially opening his components unit in 2013 was a big step forward for the Swiss brand. Subsequently, the brand could produce its own calibers, machine them, and test them according to their standards. 
The first in-house caliber was the CRMA1 that powers the RM 037. Powerful brand innovations such as the function selector, the variable-geometry rotor, and the intensive use of titanium parts in its construction led to the creation of this mechanical beauty.
It is no secret that Richard Mille relies on its partners and suppliers. The brand tries to secure the best professionals in the industry in order to provide them with the best in each aspect of luxury watch manufacturing.
Having an in-house construction rate of 80% is already remarkable, and nobody expects to top that. Like Formula 1 teams and many other car racing brands, Richard Mille uses the expertise and experience of many different specialists. The small size of the materials produced requires absolute precision and knowledge, which are only acquired after years of experience. Richard Mille's suppliers are chosen in accordance with their production capacity, given the qualitative and quantitative needs of the brand. 
The manufacturing phase can only start after every imaginable detail of a model has been fully worked out. However, before any part or component can be produced, it needs to be codified so that every single one of its dimensions can be precisely replicated. This information can then be fed to the machines that produce each piece. 
Every single element of a Richard Mille watch needs to be codified similarly. This process gains even more significance when one realizes that a Richard Mille timepiece contains very few standardized parts, so ready-made solutions are insignificant. The technical drawings are cut, milled, etc. However, this process is complex. 
During all phases of machining, the workers remain at the machines. The machines are required to be set up by hand and calibrated for each phase. The cutters used in these machines are mostly also made by hand. As a result of these constraints, it takes weeks before the production of a single bridge can begin. 
The handcrafted finishing and polishing of Richard Mille watches are one of the reasons for the unique character of a Richard Mille watch and its popularity. This is done by specialists who hand finish and polish each part perfectly with remarkable patience, a sharp eye, and incredible handiwork. The hand-finishing makes each Richard Mille watch unique. 
Many parts, such as screws, bridges, Tourbillon cages, springs, hands, and watch cases, are finished and decorated by hand. This is one of the qualities that distinguishes high-end luxury watchmaking from the rest.
Beyond the technical challenges of producing a caliber, Richard Mille's cases meet some of the strictest standards known. Whatever material it may be crafted from, the Richard Mille cases are difficult to produce due to their shape and form.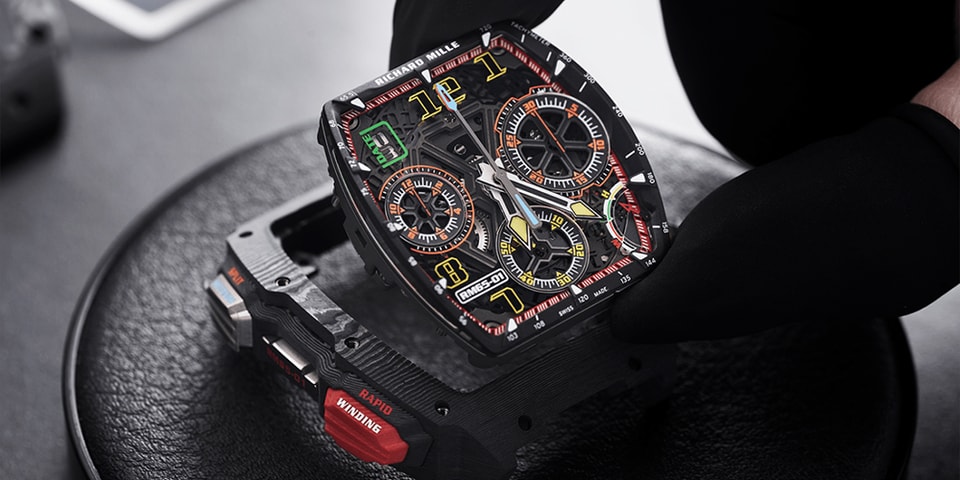 The curved profile of these Richard Mille watches makes them ergonomic. However, this intentional curvature is extremely time-consuming at every single stage of production. Machining such a case requires several months and hundreds of operations. 
Due to this complexity, the Swiss case-making experts consider Richard Mille watch cases to be the most complicated watch cases in the industry, the sapphire material crushing all records.
It took Richard Mille years of research and testing in order to ensure that it responded well to the demands of strength and comfort. Only Richard Mille has been able to achieve such a complete case. The bezel, caseband, and caseback are 100% crafted from a single block of sapphire crystal. 
Each sapphire crystal block requires 1,000 hours of machining to emerge as a Richard Mille case. A multi-axis machine has to be used throughout the production process as the case design curves in all directions. Everything connected to and from the case should be flawless.
And here we have a Richard Mille watch.
Conclusion:
Richard Mille's watch production is one of the most complicated production processes out there. And the end result is as exciting as it should be.
---